flightGear Flight Simulator
is an open-source project. Users can download it anytime and copy it to as many machines as they like. It can run on Windows (98, 2000, ME, XP, Vista and 7) platforms. Frustrated by the lack of customization and extensibility available in commercial projects, FlightGear's founders wanted to create a simulator where educators, researchers, pilots, and flight simulation enthusiasts could build their own aircraft. FlightGear is bound by the open-source GPL license which allows anyone to contribute code, join development teams, and add aircraft and scenery.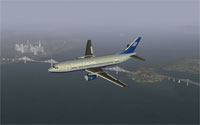 A United Airlines Boeing 737 being flown in the FlightGear flight simulator for Windows.
None of that would matter much if the flight experience didn't shine. FlightGear's excellent flight dynamics models (FDM) are based on JSBSim, the main FDM since 2000, UIUC, or YAsim. The latter two were created solely for FlightGear. FlightGear's FDM's are known for their realistic flying experience. For example, some users report that the FlightGear Cessna 172 tends to pull to the left, a common characteristic of single engine planes in real life.